<![if !IE]> <![endif]>

Alves Bandeira Tyres, S.A.
Zona Industrial da Pedrulha, Lote 12
3050-083 Mealhada
Portugal
List of product entries
This exhibitor shows the following products and commodity groups:

Product emphasis
Automobile accessories
Tires, tubes, casings

Target and sales markets
Africa
Asia
Australia
Brazil
Canada
China
Colombia
East Africa
Europe
India
Japan
Mexico
Middle East
New Zealand
North Africa
Northern Europe
Oceania
Others Central America
Others Eastern Europe
Others Oceania
Others South America
Russia
South Africa
South East Asia
Southern Europe
The Americas
Turkey
USA
West Africa
Western Europe

Company & products
Products
Matrax Tyres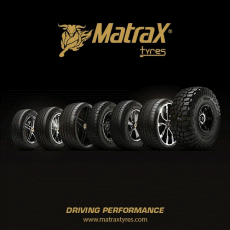 MatraX tyres are designed to offer comfort, safety, and value. Whether your are looking for the ultimate performance,
traction, or pure driving pleasure, we engineered tyre patterns to fit every need.

With innovative technology, rigid quality control, and highly regulated safety standards, MatraX tyres has set its path to develop innovative, quality tyres for the UHP, SUV, 4×4 and PCR lines. The MatraX tyres product range is set out to suit every need. Our protocol rests on four basic pillars that sustain our day to day work and vision, which is aimed at achieving customer satisfaction through: innovation, design, safety and trust.

A long history of determination in designing, engineering, development, manufacturing and global distribution lies behind the MatraX tyres brand. The innovative drive of the Alves Bandeira Group has been relentless since its very beginning over 50 years ago. The Group's core code summarised through the slogan, ENERGY THAT MOVES, sends out a clear message that it distinguishes itself by focusing on the essential harmony among client and product.


Innovation
We thrive on creating designs, processes and developing technologies that deliver the ultimate product and driving experience.

Design
We endeavour with absolute passion to achieve cutting-edge road efficient designs.

Safety
Priority on maximum grip, assuring drivers safety and total control.

Trust
How do we do it? We build what we envision for ourselves and share this with the world.

Become a distributor of Matrax Tyres and boost your business!