<![if !IE]> <![endif]>

European Tyre Distributors B.V.
Industriestraat 12
3291 CC STRYEN
P.O. Box 5722
3290 AA STRYEN
Netherlands
List of product entries
This exhibitor shows the following products and commodity groups:

Product emphasis
Tires, tubes, casings

Target and sales markets
Northern Europe
Others Eastern Europe
Southern Europe
Western Europe

Company & products
Products
LEAO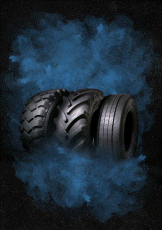 ETD's flagship brand is LEAO. As the sole distributor of LEAO TBR, AGR and OTR tyres for Western Europe, European Tyre Distributors is very proud to supply a top tyre brand that guarantees great prices, outstanding quality and 100% reliability. The lion in the logo reflects exactly what it's all about: the excellent, nearly "royal" capabilities provided by these LEAO tyres. The broad range of LEAO tyres match the requirements and desires of all types of commercial motorists perfectly.

For commercial vehicle tyres LEAO has developed specific series for different driving circumstances on the European roads. The ETD100, ETS100, and ETT100 are specifically designed for long haul applications. These tyres are designed to have excellent mileage and low rolling resistance. For regional applications, the KTD300 and KTS300 patterns have been developed. These patterns are specifically designed to withstand above average braking and steering. Additionally there is the 200-series specifically for light-trucks with 17.5 and 19.5 inch tyres in steer KLS200, drive KLD200 and trailer KLT200 patterns. Also when it comes to on/off road tyres, LEAO has an extensive range of 12 different tyres in 6 different patterns.

In the off-highway segment, LEAO has several sizes and patterns, which are unbeatable when it comes to quality and price. For example the 355/60R18 MPT30, the 24R20.5 AD702 and the ADM991 in the sizes 385/65R22.5 & 445/45R19.5 are sold all over Europe. Another pattern which is very successful is the steel belted, LEAO AGR FL300 (implement/trailer). Five new sizes have been added last month.

Recently, ETD invested in tyre-mounting equipment for off-highway tyres/wheels. "In order to meet the demands of our partners (aftersales as well as OEM) it was the logical next step for us. We had all the products, experience and knowledge in-house already" says Sjeng van der Maarel, Managing Director.

For more information on ETD and all product groups please visit: www.etd.nl.
Trademark

European Tyre Distributors B.V.